Charles Maher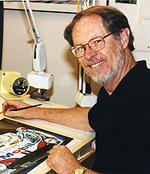 Charles Maher
5016 Dianna Dr
Bloomfield Hills, MI, 48302
USA
Tel and Fax:
1-248-421-2737

www.doctor-design.com/maherautoart »
Charles Joseph Maher was born in Kansas City, Missouri, but grew up in Miami, Florida and began his automotive journey at the wheel of a 1955 Chevy Bel-Aire followed by a Chrysler 300, the family cars. He attended the University of Notre Dame and received a bachelor's degree in Fine Art in 1968.

Mr. Maher has been an independent artist since 1988, but he first worked as a designer for Ford Motor Company. After his time with Ford, he worked 14 years with a graphics firm in Detroit designing production car graphics for Ford, GM, Honda, Toyota as well as projects such as pace car graphics for Indianapolis and the Long Beach Grand Prix. He was also a contributor to the Bricklin program and his design years saw him collaborate with a number of prominent designers.

His work has been displayed at Concours d'Elegance events at Amelia Island, Ault Park, Greenwich, Meadow Brook, Pebble Beach and the Eyes-on-Design Exhibition in Grosse Pointe, Michigan. His artwork has appeared in AutoWeek, Automobile, Car Collector, Mustang Monthly, Racer, Road & Track, Automobile Quarterly, and Sports Car Market magazines. He is a current member of the Automotive Fine Art Society.