Jay Koka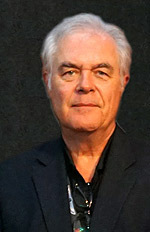 Jay Koka,
Jay Koka Studio,
Box 395, Waterloo, ON, N2J 4A9
Canada
tel: 1-519-650-3908

"Although I'm a lifelong motorhead, my interest in automotive fine art is in the context in which the automobile exists rather than the depiction of the automobile itself. The interplay of the vehicle and its environment and its human operators is to me the most worthwhile pursuit of fine art."

Jay Koka is a recognized name in automotive fine art with clients worldwide. A winner of many prestigious art awards including the Peter Helck Award and multiple Athena's. He has been featured artist and poster artist for a wide range of major international events like the Pebble Beach Concours, Meadow Brook Hall, the Concours at St John's, the Daytona 500, the 24 Hours of Daytona, the Barrett-Jackson Auctions and, especially well-known in Ferrari circles with fifteen posters for the Ferrari Club of America including their 30th and 50th anniversaries.

Koka is a 30+ year member of the Automotive Fine Arts Society serving on the Board and as Sec/Treasurer. He is also a member of the European based Artist'Auto group.

No armchair traveller, he has actually visited and experienced the many exotic, worldwide locations featured in his paintings.

Celebrating the 30th anniversary of the founding of his studio, a major book titled 30:30 » has been published in 2016.

Original paintings and an online catalog of over one 150 print and poster editions are featured in two extensive websites located at www.jaykokastudio.com » and www.autoartprints.com . An extensive archive website is at www.k20.ca » .

Koka lives with his wife Cathy near Toronto, Canada.