Yahn Janou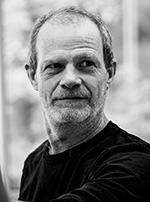 YAHN JANOU
55, rue Clément Ader,
F- 93110 Rosny-sous-bois,
France
+33 672 15 65 68
Based near Paris, French artist Yahn Janou graduated in the Art Center College of design. He made his reputation in the world of motor sport artists with oil canvas. Yahn Janou's art is not focused on depicting moments in the history of motorsport, but on painting a car in an artistic setting, so the cars' lines and colours create atmospheres through his brushes. Thus, Janou has been commissioned by classic car collectors on a regular basis.

Yahn Janou's artistry has been on display in France, in Europe and in the United States. He has become a regular of the Pebble Beach Concours d'Elegance since 2013, and also at the Cavallino Concours d'Elegance in Florida over the past two decades. His paintings were also exhibited in the United Kingdom (Goodwood Festival of Speed), Switzerland (Zurich, Montreux), Italy (Ferrari's 50-year anniversary in Maranello) and of course in many events in France, including the Retromobile motor show (Paris) and the Le Mans 24 Hours since 1996.

Janou has a strong bond with the Le Mans 24 Hours. In 2000, he was commissioned for the official poster of the 68th running of the legendary event in La Sarthe. In 2018, Janou partnered with the ACO for a book compiling 150 watercolors dedicated to the Le Mans 24 Hours, including cars from 1923 to present, portraits of multiple winners, key figures in the history of the jewel of endurance racing and texts by Fabrice Bourrigaud, the head of the 24 Hours Museum in Le Mans. This was a "back-to-basics" for Yahn Janou, who painted watercolors in his early days before switching to oil canvas.