Dennis Brown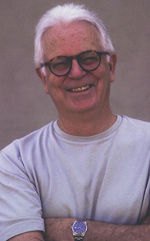 Dennis Brown
132 W Cottage Dr
Covinna, CA, 91723 USA
Tel: 1-626-339-8289

Dennis Brown paints automobiles. Not just any automobiles, though. The ones that excite his creative vision are antiques, classics, and racing cars. Dennis likes to work in a variety of mediums, but the majority of his work starts out as outlines in pen and ink. These he develops by filling in their interior spaces with transparent acrylics.

His approach to his subjects is as fresh as the look he gives them, emphasizing intense color and vitality. Dennis is a master of subtly diminishing color values, and a sophisticated sense of perspective dominates his compositions. The front of one of his cars is typically rendered in a brighter and more defined fashion than the parts that will be seen as background.

Dennis Brown's award-winning work has been commissioned by major automobile companies worldwide, and is represented in important private and public collections in the UnitedStats, Europe, and Japan.

Dennis is a member of the Los Angeles Society of Illustrators and a contributing artist for Road&Track and other acclaimed publications.