Sandrine Blondel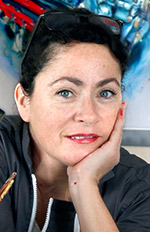 Sandrine Blondel
Sandrine Blondel Studio,
152 BD de Chanzy,
HALL A2
93100 Montreuil
Tel : + 33 (0)681 273 327
"I am a fan of the choreographer Pina Bauch and the industrial city of Wuppertal in Germany. I was particularly impressed and moved by a scene in the movie "PINA": It is a scene shot in the city centre, on a roundabout, a blonde haired woman in a fluid bronze color satin evening party dress dances bare feet below the elevated railway. Cars driving around to the rhythm of a soundtrack of beats and mechanical throbs quite slow…

This is precisely where something happens: the contrast between the flesh and the mechanical environment is deeply moving and very sensual".

Sandrine Blondel is impassioned by wastelands industrial and mechanical. Ten years ago, she started working on raw linen canvas with, as reference, an interpretation in a three-color process inspired by the Bernd and Hilla Becher retrospective in Beaubourg, then chose to employ this theme on wide plates of steel structured by rust, and more recently on aluminum. Painting on metal requires a special technique developed through the years to release energy and vibration, through a touch tending towards the instinctive while reminiscent of figurative art. By choosing metallic a structure covered with resin, she expresses a powerful realization of the theme, for a complete osmosis between the structure and the subject. She paints engines like organically parts: they are beating hearts torn from their metal body...

Born in Paris in 1964. Since the age of 10 she continued her studies on the outskirts of Paris while traveling to Africa 3 months a year, where her mother drove Land Rovers as a specialized tour guide in deserts crossings. These thousands of miles on trails with her mother led to her fascination for motor engines and machinery. She graduated from ESAG/MET DE PENNINGHEN in Paris in 1987 in the Graphic Arts section and moved to Abidjan – Ivory Coast to work as an Artistic Manager in an advertising agency, then back to France where she worked as a free lance Artistic Director and painter. Since 2000 she has been devoting herself solely to painting in her workshop/studio in Saint-Denis, on the outskirts of Paris, and in the south of France.